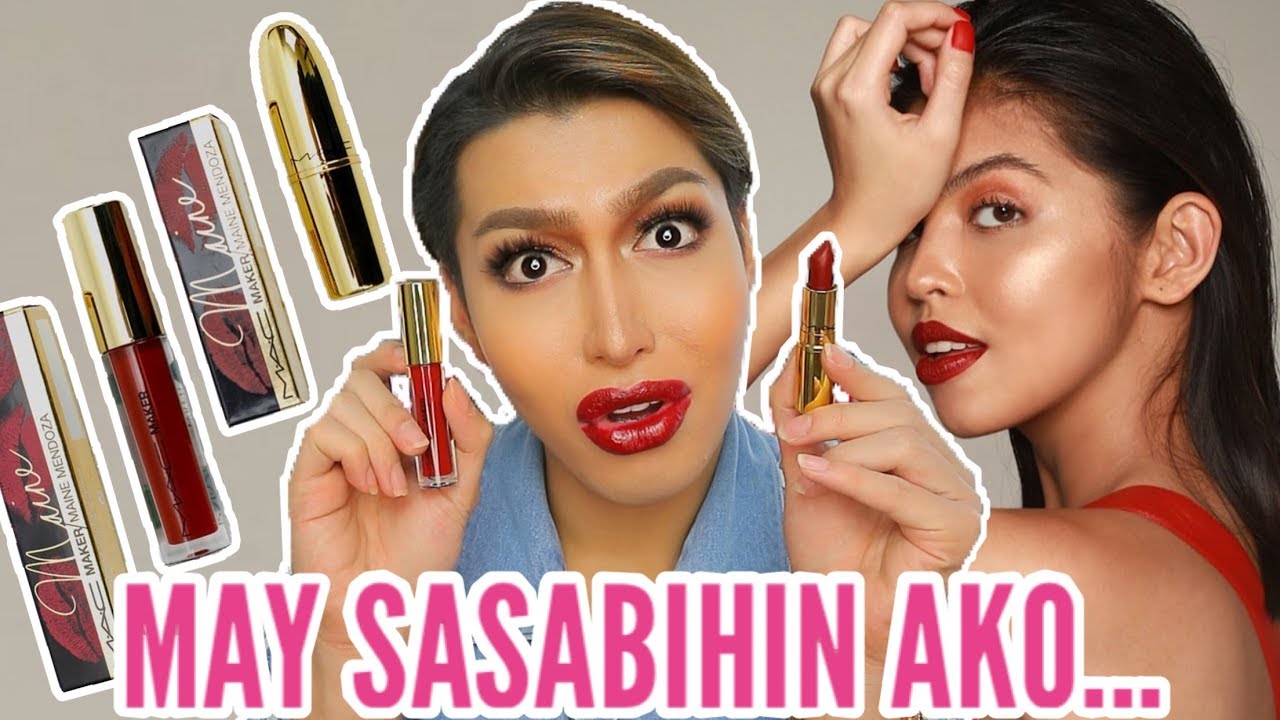 Congratulations sa nagiisang Maine Mendoza dahil of course she never fails to wow us again with the release of her new products from MAC. In fact maraming cosmetics experts and enthusiasts are now raving for Maine's new items and because of this winner si Maine sa industry ng beauty.
Panooring ang naging review ni Raf below
In other Mac related news, dahil sa continued success and effectiveness ni Maine, MAC continues its partnership and collaboration with Maine.
In fact in many markets around the world like US, in Europe, MAC continues to rely on word of mouth and of course social media influencing.
The American cosmetics brand Mac has established itself as the market leader. But the competition is approaching with new concepts and social media strategies. The group has to rethink. How can this be achieved and why are white shops important for this?
Mac Cosmetics Instagram account has almost 22 million followers. This makes the US make-up brand the world's largest account dedicated to decorative cosmetics. Yet. Because Kylie Jenner almost caught up with Mac with her own beauty label and 20.6 million followers. And even smaller labels are gaining more and more popularity with innovative products, millennial packaging design and pink shops and are pushing for shares in the beauty market.
Today Mac Cosmetics, which once started as an independent brand, belongs to the Estée Lauder group. The label is now reinventing itself not only in the German market – here in Germany one is trying, for example, with TV cooperations (the "Perfect Shot" show is running on Pro Sieben), "Influencer" collections and redesigned shops that have been specially adapted for older target groups become.
Linda Höck, managing director of Mac Cosmetics Germany, talks about what the new concept looks like in an interview.
Anyone who has ever been backstage at a fashion show or is interested in beauty cannot avoid the Mac myth and its products. How did the brand manage to assert itself as the market leader in the prestige segment?
Linda Höck: This is because the brand was specially developed for backstage . In 1994, Frank Toskan and Frank Angelo mixed their products in their garage because they missed certain colors and actually only to use these products for their catwalk shows and photo shoots. Until they noticed that models stole the make-up because they were so excited. So they sold their products. In shops that only sold this one brand, were darkly decorated and played loud music. Like a parasite in the big beauty market.
Höck: Yes. Because the German woman is rather reserved about make-up. But with "Word of Mouth" and backstage looks , we've become number one in twenty years. Even though we never spent a cent on advertising. Not like other brands that advertise the entire country with a new product.
A large advertising budget is also hyped Beauty newcomers, such as the Blogger brand glossier from New York or Fenty Beauty no longer necessary. How is Mac responding to these new trends and independent brands today?
Höck: Exactly. Today it is possible again that brands from the garage become known. Only that this garage is Instagram. If you take a closer look at the trend and the competition, it is much more a question of what these brands copied from us. Not that they copied Mac, but what they translated into their brand language. Fenty Beauty relies on "diversity" , but Mac has always stood for the right color for every skin tone with its huge color selection. We only focus better now on communicating correctly. The same applies when a young brand comes and says: Hey, we have " Social Responsibility" invented. The lipsticks in our Viva Glam series are already donated 100 percent of the proceeds. We've been pretty introverted so far, we didn't want to overwhelm customers with our information. Today you have to rethink.
In contrast to the friendly, bright glossy store, where you feel like you are having a coffee gossip with friends.
Höck: We want to go there. But we develop new concepts for every target group. Smaller shops with personal advice, also in smaller cities like Flensburg and Paderborn for the older target group and on the other hand insta shopping and the availability at Zalando for the young generation Z.